My first vegetarian Christmas has been saved by Anna Jones's gorgeous recipe ideas over at The Guardian and Nick Nairn as seen on the BBC's Saturday Kitchen Best Bites. Our feast starts with a pickled squash, charred clementine and radicchio salad. It needs to be started the night before, but it's well worth the effort. It's just the thing to get tastebuds and conversations going. A celeriac and sweet garlic pie will grace the main stage with everything you want in such a dish: flaky, cheese-spiked pastry, a lavish filling with loads of flavour, and a crisp-textured top to crown it. We're ending with a French-inspired apple tarte tatin that's lighter than the usual Christmas offering but all the better for it.
Charred clementine, pickled squash and radicchio salad
Serves 8-10
1 large butternut squash
100ml white wine vinegar
1 tsp coriander seeds
1 tsp fennel seeds
A cinnamon stick
A good pinch of dried chilli
2 sprigs rosemary
1 tsp coarse sea salt
10 black peppercorns
200g feta cheese
8 clementines, 1 zested
2 heads radicchio
For the dressing
2 tbsp balsamic vinegar
4 tbsp olive oil
1 lime, juiced
1 tbsp maple syrup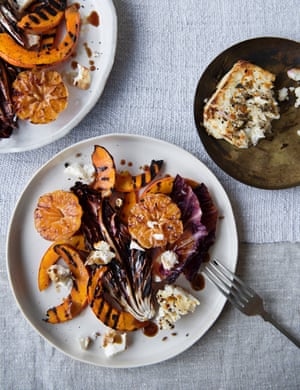 Peel and slice the squash as thinly as possible and put the slices in a large mixing bowl. Warm the vinegar in a pan with the spices, rosemary, salt and pepper until just before it comes to a boil, then pour over the squash and leave overnight.
On the day, set the oven to 200C/400F/gas mark 6. Put the feta on to a baking tray with a spoonful of the vinegar and spice mixture and the zest of a clementine, and roast for 40 minutes, until burnished on top.
Make the dressing by mixing together the balsamic, oil and lime with 3 tbsp of water until thick, then add the maple syrup and mix again.
 Heat a griddle pan. Cut the radicchio into wedges, peel the clementines and cut them in half across the middle. Once the griddle is smoking hot, put the clementines on their flat side until they are nicely charred then set aside. Next griddle/fry the squash on both sides – you may need to do this in batches. Then griddle the radicchio on both of its flat sides.
Once everything is griddled, lay the clementines, radicchio and squash on a big platter and drizzle generously with the dressing. Serve just warm with good warm toast if you like.
Celeriac and Sweet Garlic Pie
250g plain white spelt flour
125g butter, cold, cubed
½ tsp fine sea salt
A few sprigs of rosemary, thyme and sage, leaves picked and finely chopped
Zest of 1 lemon
25g good cheddar, grated
1 egg yolk
50-70ml cold water
For the filling
3 medium heads garlic, cloves separated and peeled
1 tbsp olive oil, plus a little extra to finish
1 tsp balsamic vinegar
1 tbsp honey
2 sprigs of rosemary, thyme and sage, leaves picked and finely chopped
1kg celeriac
220g crumbled Lancashire or good cheddar cheese
150g creme fraiche
Juice of ½ lemon
1 tbsp wholegrain mustard
A small bunch of parsley, chopped
2 eggs, beaten
A few splashes of Worcestershire sauce (I use a vegetarian one)
Salt and freshly ground black pepper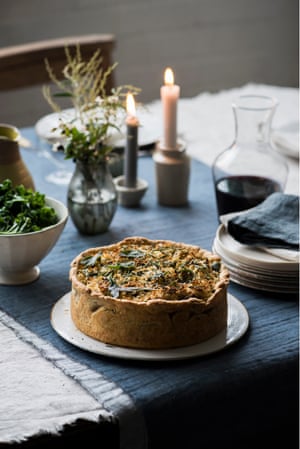 Put the flour in a mixing bowl. Add the cubed butter and the salt. Rub gently with your fingertips until it is like fine breadcrumbs. Stir through the herbs, lemon zest and grated cheddar.
 Beat the egg yolk with 1 tbsp of cold water. Add to the flour and mix until it forms a dough. Add water a teaspoon at a time if needed tsp by tsp until it comes together into a smooth dough. Wrap in clingfilm and chill in the fridge while you make the filling.
 For the filling, put the cloves of garlic into a saucepan, cover with cold water and bring to a gentle simmer. Cook for 2-3 minutes, then drain.
 Wipe the saucepan dry. Add the garlic and olive oil and fry on a high heat for 2 minutes. Add the balsamic vinegar and 200ml water, bring to the boil and simmer gently for 10 minutes.
 Add the honey, most of the rosemary and thyme (reserving the rest, with the sage) and a good pinch of salt. Continue to cook on a medium heat for a further 5 minutes, or until most of the liquid has evaporated and the garlic cloves are coated in a dark syrup.
 Meanwhile, peel the celeriac and cut it into quarters. Set aside 300g and slice the rest into 2cm-thick pieces. Put them into a saucepan, cover with hot water and boil for 7-10 minutes.
 Drain and tip into a big mixing bowl. Add the cheese, creme fraiche, lemon juice, mustard, parsley and eggs. Add a good pinch of salt and grind of pepper and gently fold in the garlic cloves.
 Preheat the oven to 160C/325F/gas mark 3. Sprinkle flour on to a work surface and roll out the pastry to 3-4mm thick. Line a 20cm-diameter cake tin with the pastry, ensuring a little spills over the edges.
 Add the filling. Grate the reserved celeriac and pile it on top. Finish with the reserved rosemary and thyme, all the sage, and a drizzle of olive oil. Bake for 45 minutes or until the tart filling has set and the top is golden brown.
Remove from the oven, leave to cool a little, then take it out of the tin. Lay a few herbs on top and serve warm.
Apple Tarte Tatin
This French-style dessert by Nick Nairn resembles a tarte tatin but uses filo pastry instead of shortcrust pastry.
Serves 6
175g/6oz caster sugar
75g/3oz butter
3 tbsp water
50g/2oz dried cranberries (optional)
50g/2oz sultanas (optional)
50g/2oz raisins (optional)
1kg/2lb 2oz dessert apples, such as Cox's Orange Pippin, peeled, cored and quartered
200g/7oz filo pastry, cut into 5cm/2in-wide strips
½ tsp ground cinnamon
1 clementine, zest only
1 lemon, zest only
75g/3oz butter
Method
Preheat the oven to 200C/400F/Gas 6.

Heat a 24cm/9½in ovenproof frying pan or tatin dish until hot. Add 125g/4½oz of the caster sugar and heat until the sugar melts into a caramel. Add the butter and cook for a further 2-3 minutes.

Remove the pan from the heat and stir in the dried cranberries, sultanas and raisins (if using).

Stir in the apples until completely coated in the caramel mixture. Return the pan to the heat and cook for a further 3-4 minutes. Set aside.

Mix the filo pastry strips, cinnamon, clementine zest and lemon zest in a bowl until the zest and spices coat the pastry, then stir in the clarified butter until it coats the pastry.

Scrunch the coated strips of filo pastry in your hands and place them on top of the caramel mixture in the pan.

Place the pan into the oven for 10-15 minutes, or until the filo pastry is crisp and golden- brown.

To serve, cut into wedges and serve with some brandy cream, vanilla or salted caramel ice cream.